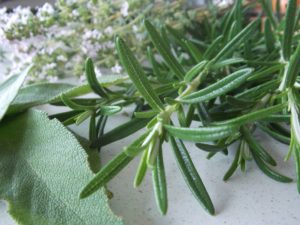 Rosemary is one of a gardeners favourite herbs – hardy and easy to grow, scented, attractive and good to eat….what more could you want.
Originating from the Mediterranean regions, rosemary was part of ancient society as symbol of fidelity and remembrance, these days it is pinned on the shirts of ANZAC soldiers.
At Living Herbs we recommend 3 varieties – Gorizia, which grows to about 1.5m tall and is denser growing than the upright, and upright and spreading Rosemary (do I need to explain those?)
Rosemary is super-tasty too, great with potatoes, lamb of course and roasts, and seafood. Have a look at these prawns on rosemary skewers – yum!!